Enterprise Training and Sourcing with an Edge
CCS Learning Academy has designed and organized Enterprise Solutions for the Corporates to meet the multifaceted needs of upscaling the teams. Our
Level Up 360°
and
Ramp Up 360°
programs give you the ability to speed up qualified technology professionals to your landscape in the manner that best suits your company's needs and goals. As the training division of
CCS Global Tech
, a full-service technology provider, we have our fingers on the pulse of today's most pressing business needs. CCS Global Tech's client projects afford us the direct experience necessary to know which employee skills are invaluable and which lack impact. CCS Learning Academy has created several engaging and informative solutions to help your group train your teams. Also, we have proper, grounded, and value-added employee training retention programs. We are a 25 years old company, offering various Corporate Technology Solutions at every level. Enterprise solutions commonly come with multiple facilities for the organization to enable improved workflows. To find information related to our Enterprise Solutions, feel free to check our program updates.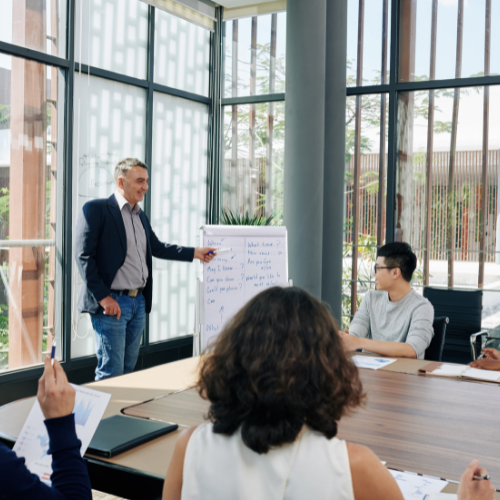 Enterprise Solutions By CCS Learning Academy
Productive employees are the key to the organization's growth. But if your employees are not productive enough and lack some kind of skill, it will surely hamper your business. CCS Learning Academy strives to improve employee performance by Upskilling their knowledge of technology. Not only that our enterprise solutions also include Talent Sourcing. In fact, we also offer ready-to-deploy workers specialized in the technology you're looking for. Whether it's Ramp Up 360° or Level Up 360°, we have created both our enterprise solutions for your day-to-day workflow. Our aim is to give you access to all the best in the industry. To emphasize your company's culture we offer enterprise training. We also help you find talented employees through our enterprise management training program.
Solving the talent sourcing problem.
The Ramp up 360° is a new Getaway designed by CCS Learning Academy to help you build skilled teams having the right technical knowledge and also years of experience in the industry. As part of our enterprise training program, Ramp Up 360° solves the issues that arise from talent sourcing. We help corporate organizations find ready-to-deploy tech talent and train them to fit your bill. We prepare the candidates with all your project requirements based on Data Analytics, Business Intelligence, Cybersecurity, and more. Ramp up 360° being an enterprise training solution helps you to deploy tech talent acquisition. As an organization, you can become worry-free about finding the right employees and concentrate more on other x factors of your company.
Helping companies bridge the skill gap by upskilling existing teams
Upskilling the existing teams is most necessary because it becomes impossible for the employees to self-train themselves. As the organization leader, you must always focus on Upskilling employees first. This is where our enterprise learning comes to your benefit. Our program Level Up 360°, helps you to turn your team's capabilities and train them on the most specialized professional development training like Data Analytics, Business Intelligence, cyber security, and more. With our enterprise training solutions, the employees can update themselves and become industry ready. The benefit of our Upskilling enterprise trainee program is that it gives them improved leadership and enhances their performance.
We provide a wide range of technical and professional development training, and we specialize in the following,
The CCS Learning Academy Advantage
We're happy to work with you to create a solution that fits your needs and meets your goals. Our team excels at creating group experiences that are engaging, informative, and relevant. Visit our course catalog to choose your topic(s) and/or contact us to develop a custom curriculum. We look forward to working with you!
Tell Us About Your Training Needs