Cybersecurity Awareness Training Program
Cybersecurity Awareness training that actually works
Cybersecurity Awareness training is critical to safeguarding your organization. Our new, innovative cybersecurity awareness program brings sophisticated breach scenarios and simulations to your employees' desktops where you can see how they truly respond to a "real" breach. Step beyond the video-based training and into the real of hands-on learning. Your team can put their new skills into play immediately, bringing an increased level of security to your ecosystem from day one.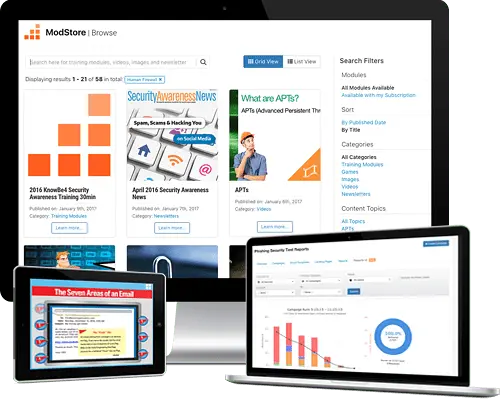 Unique features of our Cybersecurity Awareness training
Keep your team's cybersecurity awareness skills finely honed with automated test simulations you can schedule to deploy whenever you choose. The application comes with thousands of customizable templates.
The unique applications includes reporting capabilities that allow you to see risk scores by employee, team, or your whole organization. Its Virtual Risk Officer provides a user-friendly dashboard that allows you too see this data quickly and easily.
Library of tested scam scenarios
Our innovative platform includes the world's largest collection of scam scenarios. This ensures your team is prepared for any breach attempt. 
Active directory integration
Integrating the cybersecurity awareness platform into your organization and managing your users is a low lift. Within hours you can have it up, running, and ready to elevate your organization's cybersecurity know-how.
Schedule a free demo today!