Enterprise Training and Sourcing with an Edge
Building a digitally savvy workforce is an ongoing challenge. We help companies source the training and talent needed to overcome this hurdle. Our Level Up 360° and Ramp Up 360° programs give you the ability to speed-up qualified technology professionals to your landscape in the manner that best suits your company's needs and goals.  
As the training division of CCS Global Tech, a full-service technology provider, we have our fingers on the pulse of today's most pressing business needs. CCS Global Tech's client projects afford us the direct experience necessary to know which employee skills are invaluable and which lack impact.
At CCS Learning Academy, we use this knowledge to deliver cutting-edge training to professionals at every level.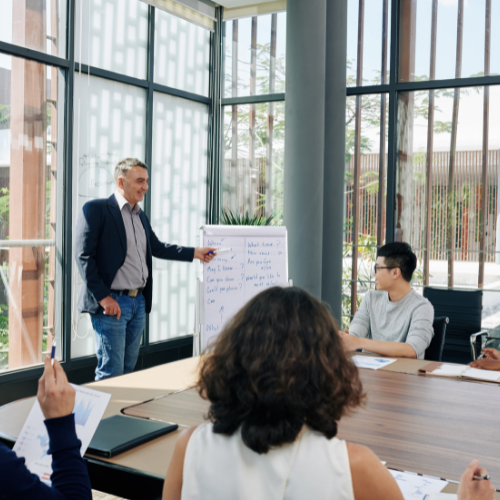 Solving the talent sourcing problem.
Ramp Up 360° offers a new way to bring ready-to-deploy tech talent into your environment – at a fraction of the hiring cost! We connect you to candidates who are purposefully prepared to meet your project requirements. BI, Security, Java, Snowflake, AWS, Power BI, SQL, Risk Management Framework… You tell us what you need, we source and train candidates to fit the bill. Then, you make your final decision based on your project's needs and goals.  
Helping companies bridge the skill gap by upskilling existing teams
Level Up 360° makes identifying and sourcing high quality training fast and easy. From cybersecurity to data analytics to business intelligence, we give you a one-stop-shop for all today's relevant tech training. The result? Highly proficient individuals, teams, and groups that contribute to your organization's success today and in the future.   
We provide a wide range of technical and professional development training, and we specialize in the following,
The CCS Learning Academy Advantage
We're happy to work with you to create a solution that fits your needs and meets your goals. Our team excels at creating group experiences that are engaging, informative, and relevant. Visit our course catalog to choose your topic(s) and/or contact us to develop a custom curriculum. We look forward to working with you!
Tell Us About Your Training Needs