Earn your Cybersecurity certificate in 8 weeks.
Become a Cybersecurity Expert with our comprehensive and world-class Online Cybersecurity Bootcamp. Build your skillset and get CompTIA Security+ Certification. Get excellent career advice from our experienced professionals and mentors.
Skills honed to perfection in 8 weeks
Cybersecurity Bootcamp Benefits
Cybersecurity professionals must be 100% knowledgeable and experienced in the skills and nuances of the domain, including a wide range of security components and technologies. We've packaged this critical knowledge and skills into our Cybersecurity Bootcamp Certification course. Here's how this course impacts your career:



You're Day-1 ready when you leave the program and have the foundational knowledge and experience needed to grow your career into leadership positions.
You learn from working professionals who are active in the tech landscape and give authentic feedback on today's tech and hiring landscapes; you have insight into what's really out there.
You have a network of professionals, both technical and non-technical, committed to supporting your growth and advancement even after you graduate.
You can get your career started quickly and with minimal investment; you'll be working and earning a paycheck in six months or less.
CCS Learning Academy offers the best bootcamps for cybersecurity. Online courses with cyber defence mechanisms and innovative technologies are normally held Monday through Friday from 9:00 a.m. to 5:00 p.m.
Weekdays (full-day schedule)
October 02, 2023
November 06, 2023
December 04, 2023
Weekdays (evening schedule)
October 16, 2023
November 13, 2023
December 11, 2023
Weekends (full-day schedule)
October 14, 2023
November 18, 2023
December 9, 2023
CCS Learning Academy Bonuses
After the cybersecurity professional bootcamp, work for
CCS Global Tech
and become eligible for a refund of up to 50% of your tuition fees!*
Reserve your seat for only $495 and work with our team to finance the rest of your bootcamp tuition.
Get $500 off tuition if you refer a friend who registers for any online bootcamp course within 30 days!
Learning doesn't have to end! Graduates can enjoy 20% off any certification course in our catalog.
Free E-Learning Subscription
A $1,595 value! Get free access to all e-learning courses in any topic area for 12 months after graduation.
Ask Questions
If you have any questions or doubts about whether any of our best bootcamps for cybersecurity are right for you, contact us to set up a conversation with one of our Learning Experts!
Get Answers
Our team can provide you with details and guidance regarding how you might leverage this training course to advance your career.
Apply
All prospective applicants must start by contacting us through the form at the bottom of this page.
Learn
Instructor-led training and Q&A sessions include demonstrations and use case scenarios on a variety of topics.
Practice
Complete assignments, sessions with industry experts, project work, and quizzes as part of your learning experience.
Test Yourself
You will have the opportunity to participate in mock interviews in order to help with your post-bootcamp job search.
Congratulations!
Enjoy the confidence and knowledge you've gained.
Update Your Resume
Your new resume should reflect the skills and experience you've gained with Cybersecurity tools.
Apply for Jobs
Land roles such as Cybersecurity Specialist, Information Security Specialist, Site Security Administrator, Cryptographer, Cryptoanalyst, Cybersecurity Engineer, and more.
Cybersecurity is the art and science of recognizing and protecting potential risks and threats to sensitive information and data on servers, networks, websites and other digital assets.
Advance your Career with Cybersecurity
Cybersecurity courses give you the requisite knowledge and skills to locate risks and make the IT infrastructure digitally robust and unnavigable. Cybersecurity is in-demand, enriching, profitable and the need of the hour.
Cybersecurity Jobs are in Demand
As technology advances and dependency on technology increases, organizations are upping their efforts to defend their data, systems and networks against attacks and information leaks. The result is an increased need for cybersecurity professionals. Our Cybersecurity Certified Bootcamp program makes stepping into this hot career field a low lift.
Our Cybersecurity Graduates get Hired by Top Companies
Jobs in Cybersecurity are estimated to grow by 31% by 2029, as per the US Bureau of Labour Statistics. The jobs are out there. Our Cybersecurity Bootcamp program not only fully prepares you to fill these roles, but we also help you land your dream job. Our experienced recruiters connect our graduates to cybersecurity roles with top companies.
Become a Cybersecurity Expert
CCS Learning Academy 's Cybersecurity Online Certified Bootcamps equips you with the hands-on skills and experience you need to enter, function and prosper in the cybersecurity industry. From the latest technologies to foundational knowledge, you'll learn everything you need to know to thrive as a cybersecurity expert.
Get hands-on Cybersecurity skills on your schedule
Today's employers are looking for professionals who can get the job done. Our Cybersecurity Bootcamp teaches you the skills and knowledge you need to be an effective cybersecurity team member. We also ensure you have a solid foundational skill set that positions your career for continued growth.
Know if you are a perfect fit
Cybersecurity Bootcamp might be the one for you
You work in the technology space and want to add cybersecurity to your resume and skill set in order to further your tech career.
Your current company needs cybersecurity professionals to ensure the protection, safeguarding, integrity, confidentiality and availability of data and sensitive information.
You want to capitalize on the current demand for cybersecurity professionals and have a penchant for protecting users, data and information.
You want to take a deep dive into networking and cybersecurity.
You're looking for technology training that fits into your life and your budget.
You want to explore the tools, methods, technologies and techniques used by cybersecurity professionals and learn how to shield your organization from external risks.
You want relevant technology training that boosts your resume and distinguishes you from other job applicants.
A Closer look at CCS Learning Academy's Cybersecurity Bootcamps
Start an in-demand career with a long-lasting footprint
Our Cybersecurity Expert Program gives cybersecurity professionals foundational, intermediate and advanced skills, including industry-level certifications such as CompTIA Network+, CompTIA Security+, CCSP, CPEH, CompTIA PenTest+ etc. This course helps you:

Keep up-to-date with the latest cybersecurity trends and developments which allow you to implement adequate cybersecurity protocols in your organization via suitable hardware and software.
Protect against data breaches, phishing attacks and information security lapses.
Understand how cloud computing and its specific security needs impact organizations' landscapes.
Understand the legal requisites, privacy norms and auditing protocols associated with cybersecurity.
Organize IT infrastructures and establish an actionable cybersecurity plan for maintaining and growing a secure digital environment.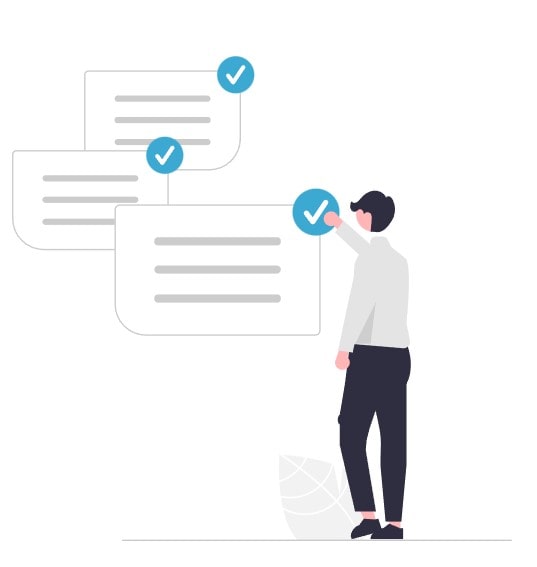 CCS Learning Academy's buffet of the top bootcamps for cybersecurity is the best and aims to bring the best in you. This online training course is an intensive program designed to help you develop genuine expertise in the cybersecurity field as quickly as possible. With decades of experience in talent sourcing and staff augmentation, we know exactly what kinds of cybersecurity-related abilities and certifications employers tend to look for — and we're here to help you acquire them. Hone your skills with our best professional training courses on cyber information security.
Any of our ace bootcamps, require no prior substantial knowledge in any field. Sharpen your professional skills and love for IT, especially network security with our premier online coaching courses.
This program is available at any learning hub, such as Los Angeles, San Diego etc. or online
This program is eligible for VA tuition benefits
Included exam vouchers: CompTIA Security+, CompTIA CySA+, C)PEH – Certified Professional Ethical Hacker
Job placement assistance is provided to graduates for 12 months immediately following professional bootcamp completion
Please contact us for government and corporate pricing
$12,995 $9,995
Pay in full to save $3,000!
Paid at the time of enrollment: $9,995
Total cost: $9,995
$12,995 $10,995
Pay in installments to save $2,000!
Paid at the time of enrollment: $1,995
Paid after Week 1: $3,000
Paid after Week 4: $3,000
Paid after Week 8: $3,000
Total cost: $10,995
$12,995
Paid at the time of enrollment: $1,995
Financed amount: $11,000
Total cost: $12,995
Learn more about our student financing partner, Climb Credit
For a limited time, reserve your seat for an initial deposit of only $495!
Are you looking for a job with flexible work hours (after hours or on weekends)? We can help! Call or email us: 858-208-4141 or sales@ccslearningacademy.com
Are you a Veteran? We have Vet-specific programs that help you enter the tech sector. Contact us for a free consultation on training and hiring possibilities.
Cyber Security Boot Camp is an exclusive training module designed and delivered by CCS Learning Academy, to train technology professionals and all those who are looking for a career in the field of Cybersecurity. The training course covers Cyber Security Fundamentals, Systems Administration – Windows and Linux, CompTIA Network+, CompTIA Security+, Python, C)PEH, CompTIA CySA+, CompTIA PenTest+ and CCSP (Certified Cloud Security Professional).
Cyber Security professionals are in demand due to increasing roles in the field of technology, to protect data and information from leaks and attacks. Cyber Security professionals are required across all industries such as banking and financial services, retail, pharmaceutical, IT/ITES, E- Commerce, education etc.
Yes, Cyber Security is a great career option. It allows you to channel your passion for IT and creativity to defend data. There are innumerable career options available for Cyber Security experts as well as lot of growth and professional advancement. Get all the requisite theoretical and practical knowledge by enrolling into Cybersecurity Bootcamps by CCS Learning Academy to fly in your career.
We've got all the answers. Check out our extended FAQs.